Austria and the Council presidency
Austria
Austria is situated at the heart of Europe. For this very reason, we have always been a place of dialogue, trying to build bridges between the different European economies and cultures. Austria is where nature and culture, history and high technology, bathing lakes and high mountains, as well as regional progress and urban innovation all come together. It is this scenic and cultural diversity that makes our country an open, joyful, creative and hospitable member of the European Union.
Austria is a federal, parliamentary democracy which covers an area of 83 858 km²and has a population of around 8.7 million. We have been a member of the European Union since 1995. We are also home to the headquarters of more than 50 international organisations.
In addition to the presidency of the Council of the EU, 2018 also marks the centenary of the founding of the Republic of Austria. On 12 November 1918 hundreds of thousands watched as the country was proclaimed a republic in front of the Austrian parliament.

Austria's towns and cities draw visitors with their fascinating architecture ranging from Gothic to postmodern. The east of the country is characterised by the flat steppes of the Pannonian basin, while the west is dominated by the Alps. Bridging these two extremes are woods and fields, wetlands and lake areas and even a Mediterranean-like landscape in the south.
More information on Austria's history and political system, geography and culture, towns, cities and scenery can be found on the website of the Austrian National Tourist Office.
Lake Pfannsee in Silbertal, Vorarlberg
Österreich Werbung/Popp Hackner
Island in the Mur, Graz, Styria
Österreich Werbung/Popp Hackner
Vineyard in Burgenland
Österreich Werbung/G. Popp
River bends at Schlögen, Upper Austria
Österreich Werbung/Peter Burgstaller
Farm houses in the Mostviertel, Lower Austria
Österreich Werbung/Volker Preusser
Alphorn blowers in Stubaital, Tyrol
Österreich Werbung/Schönherr
View of Lake Wörthersee, Carinthia
Kärnten Werbung/Tine Steinthaler
History of Art Museum (KHM) in Vienna
Österreich Werbung/Julius Silver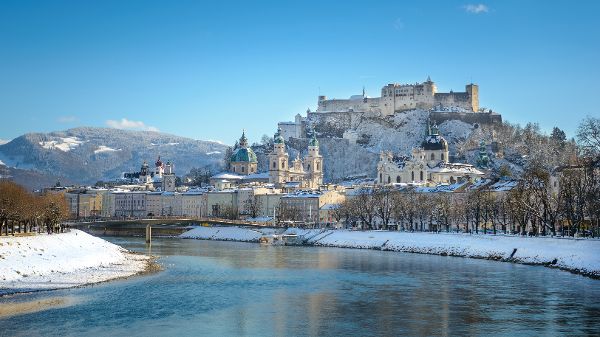 City of Salzburg – view of the Hohensalzburg fortress
Tourismus Salzburg GmbH/Günter Breitegger
Austria and the Council presidency
Following its presidencies in 1998 and 2006, Austria will assume its third presidency of the Council of the European Union on 1 July 2018. The Council presidency constitutes a particular European task for Austria, both concerning the organisation as well as the political programme.
Approximately 300 events will take place in Austria during its presidency; these range from informal ministerial meetings and technical conferences to expert meetings and cultural events. We look forward to welcoming some 48 000 delegates to Austria in the 6 months of our presidency!