Other
Other meetings
European Big Data Value Forum (EBDVF 2018)
Live stream
12.11.2018 - 14.11.2018
Vienna
Add to your calendar:
iCal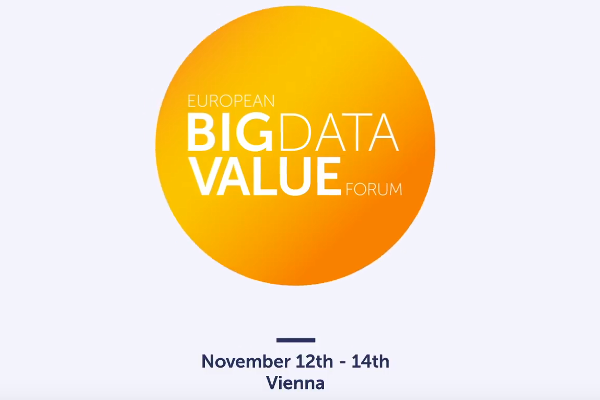 Artificial intelligence depends on the availability of large data volumes. Therefore big data forms the basis for further technological developments and the associated economic opportunities. From 12 to 14 November leading representatives from European research, development and the economy come together in Vienna to discuss framework conditions and initiatives for data-driven innovation and artificial intelligence.
The European Big Data Value Forum 2018 (EBDVF2018) takes place in the framework of the Austrian Presidency of the Council of the European Union and with the active participation of the host country Austria, the European Commission and representatives of the industry.
On the first day, introductory statements will be given by Federal Minister Norbert Hofer, Director Gail Kent (European Commission) and Mark Shuttleworth (founder of Ubuntu). The first 2 days will take place in the Austria Center Vienna, where concrete examples of technical implementation in various areas of application will be discussed, as well as current developments regarding regulation on a European level and framework conditions for future research promotion. On the third day of the event, workshops will be organised in Siemens City, Vienna, on the topics networking and data ecosystems, amongst others.
Austria is the European leader in establishing platforms for a legal and transparent exchange of data. The country will present its successfully implemented "Data Market Austria" (Austria's first digital ecosystem for data, business and innovation) and other, wider initiatives: The Data Intelligence Offensive (DIO) is a broad cooperation of research, industry and governmental authorities supporting the transition to the data economy. The DIO aims at creating safety and trust and at promoting the use of relevant technologies, market formation, data management and intelligent services. The DIO is supported by several government authorities and will be presented on 13 November at 17:00 in Hall D of the Austria Center Vienna (see: https://www.european-big-data-valueforum.eu/program/). The first 2 days of the expert meeting will be open to the media.
Media Events
Monday 12 November 2018
09:10

Opening of the expert meeting by Norbert Hofer, Federal Minister for Transport, Innovation and Technology

09:35

Presentation by Carl-Christian Buhr, Deputy Head of Cabinet of the Commissioner for Digital Economy and Society Mariya Gabriel on the topic "Data-driven artificial intelligence: Elements of the European strategy"

09:50

Award ceremony for the Horizon Prize Big Data Technologies, presented by Director Gail Kent (Big Data in DG CONNECT, European Commission)

10:00

Presentation by Mark Shuttleworth, founder of Canonical (operating system "Ubuntu") on the topic "Operational excellence in the age of Al"

10:45

Panel discussion on the topic "Challenges in Data-Driven Al for Europe" with

Matthias Böhm, Data Science Professor, IBM and Graz University of Technology
Kurt Hofstädter, Siemens/Digital Factory CEE
Mark Shuttleworth, Canonical Ltd.
Gail Kent, European Commission, DG CONNECT
Michael Wiesmüller, Federal Ministry for Transport, Innovation and Technology
Svenja Hagenhoff, Professor in Erlangen, Germany

Language: EN (without simultaneous interpretation)
Venue: Hall D

13:00 – 14:30

Parallel sessions on the topics

"European Data Flow"
"Explainable Al"
"Transforming Transport"
"Smart Factories"

15:00 – 16:30

Parallel sessions on the topics

"Startups and Entrepreneurs Boosting Big Data"
"Corporate Innovation"
"Al Standards"
"Data Driven Bioeconomy"
"Healthcare"

17:00 – 18:30

Parallel sessions on the topics

"Big Data & Machine Learning in the Company Strategy"
"Benchmarking Big Data"
"Data Literacy and Skills"
"Getting your Data Driven Ideas Investor-Ready"

Language: EN (without simultaneous interpretation)
Venue: Hall D, Briefing rooms 1, 2 and 3
Tuesday 13 November 2018
09:00

Presentation by Annabelle Gawer, Professor at the University of Surrey, on the topic "The Business of Platforms: Strategy in the Age of Digital Competition, Innovation and Power"

10:00 – 10:45

Presentation by Irfan Khan, Head of Sales, Platform and Data Management at SAP, on the topic "Making The World Run Better – a Holistic Approach to Enabling the Intelligent Enterprise"

Language: EN (without simultaneous interpretation)
Venue: Hall D

11:15 – 12:45

Parallel sessions on the topics

"Responsible AI of the Future"
"Big Data on Big Clusters - High Performance Analytics"
"Technical Solutions for GDPR Compliance"

14:15 – 15:45

Parallel sessions on the topics

"Data-Driven Business Model Innovation in Smart Industries"
"Artifical Intelligence in Cyber Security"

Language: EN (without simultaneous interpretation)
Venue: Hall D, Briefing rooms 1 and 2

16:15

Presentation by Georg List, Vice President of AVL List, on the topic "Big Data – Shaping Future Vehicles"

17:00

Presentation of the Data Intelligence Offensive

17:40

EBDVF conference closing / EBDVF workshops kick-off

Language: EN (without simultaneous interpretation)
Venue: Hall D