News
Federal Chancellor and members of the Austrian government in Brussels
Published 06 Jun 12:00
Presentation of the programme for the Austrian Presidency of the Council of the EU
On the morning of 6 June, the Federal Government did not as usual hold its Council of Ministers meeting in Vienna. Instead it met for an informal meeting at the Permanent Representation of Austria to the European Union in Brussels. The main topic of discussion was the Austrian Presidency of the Council of the European Union, which starts on 1 July. The priorities and details of the Austrian Presidency's programme were also discussed at the subsequent talks with the European Commission. Federal Chancellor Sebastian Kurz met with Commission President Jean-Claude Juncker, while members of the Austrian government held bilateral talks with their College counterparts. These talks were followed by a joint working lunch at which all 28 members of the College of the European Commission met with the Federal Government.
Family photo of the Austrian government
BKA/Dragan Tatic
Migration and the protection of the EU's external borders were highlighted as the Austrian Presidency's main priorities. Digitalisation and the EU perspective of the Western Balkans will also be focused on. In addition, Austria will advocate an enhanced subsidiarity. Austria's Presidency will also see key challenges such as the negotiations on the United Kingdom's withdrawal from the European Union and those on the EU budget.
"In recent years, Europe has had to deal with several crises that have shaken peoples' confidence in the EU as a Union of peace and security. Austria will therefore choose the following motto for its Presidency: 'A Europe that protects' ", said the Federal Chancellor at the presentation of the Presidency programme. He also said that the Austrian Presidency would work to strengthen the Union and achieve mutual trust among the member states. "We want to help the EU get closer to its citizens and once again better apply the principle of subsidiarity model". The EU should be viewed as a reliable and stabilising force in the world", said Sebastian Kurz.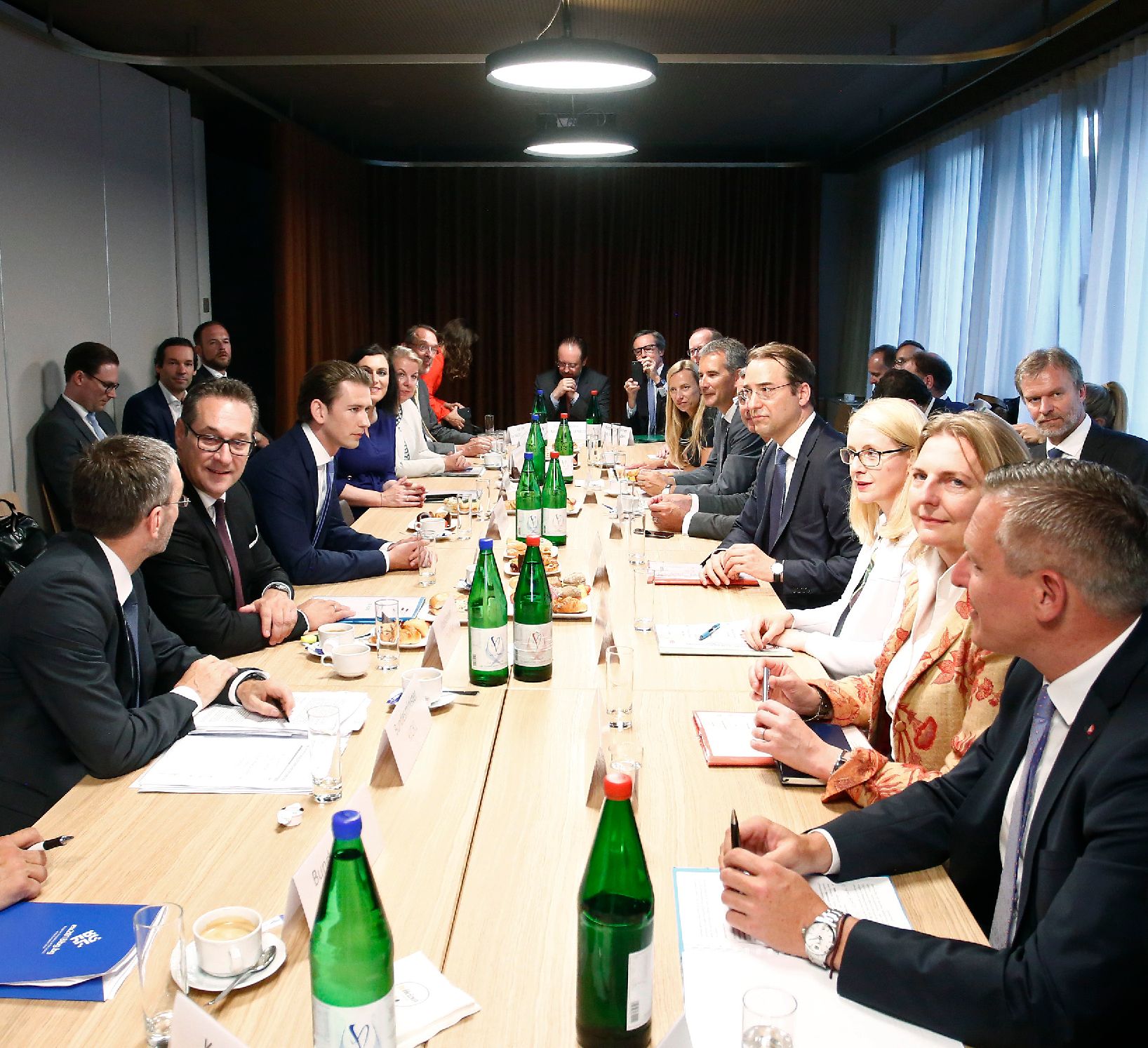 Meeting of the Austrian Council of Ministers in Brussels
BKA/Dragan Tatic
At a joint press conference, Federal Chancellor Kurz and Commission President Juncker stressed their positive cooperation so far and Austria's role as bridge builder. "We held intensive, open and productive talks. I am convinced that Austria will have a successful presidency", said Jean-Claude Juncker. "We attach great importance to close cooperation with the Commission and are already looking forward to the visit of the College of Commissioners to Vienna", added Sebastian Kurz. Especially prior to the forthcoming European Parliament elections in May 2019, it is important for Austria to obtain good results in as many policy areas as possible during the 6-month presidency. Given this context, we will do our best to contribute our share", concluded the Federal Chancellor.
Photos of the Brussels visit can be found on the Austrian Presidency's Flickr channel: https://www.flickr.com/photos/eu2018at/.
Download the full programme: