News
Keynote address before the European Parliament – presentation of the Austrian Presidency's priorities
Published 04 Jul 14:14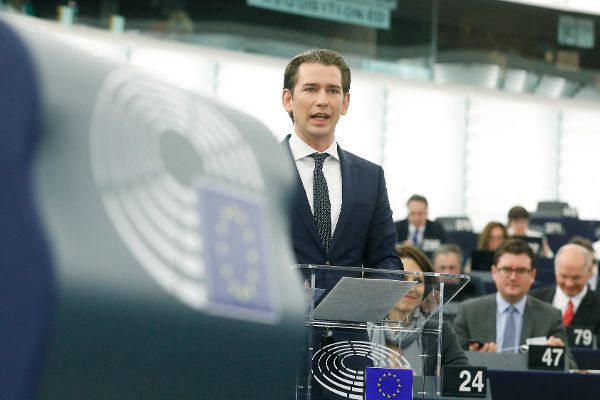 Full text of Federal Chancellor Sebastian Kurz's address before the European Parliament on 3 July 2018
Buongiorno Antonio,
Bonjour Jean-Claude,
Ladies and gentlemen, Members of the European Parliament,

It is a great joy and honour for me to have this opportunity to address you today in the European Parliament, you as the the elected representatives of the people of Europe at European level. On Saturday we came together in Schladming, high up on an Austrian mountain summit, to take over the baton, the European baton, from Boyko Borissov. We celebrated this event because we in Austria, as a pro-European country, consider it to be a great honour to be able to assume the presidency of the Council of the European Union. It is not only a great honour but also and above all a great responsibility, and at this juncture, I would like first of all to congratulate the Bulgarian Presidency of the Council of the EU for their work in the past 6 months. From our point of view they carried out their work very professionally. We will strive to continue the work for the European Union in that vein. It is a great responsibility that we are taking on in order to do our bit for the future of the European Union.

I admit that as a young person of the age of 31 the European Union is for me something of a matter of course. In the past years, however, I have become increasingly aware of the fact that we as politicians cannot take the European Union for granted, rather we have to work hard every day to further develop the peace project and successful project that is the European Union and to keep on changing it for the better.

We, as the Republic of Austria, are taking over the Council presidency in very challenging times, in a period of upheaval. We are experiencing ever greater changes in the United States' political landscape, a landscape that has become more and more unpredictable for us in Europe. We are seeing great economic growth in China, but at the same time a societal model that is very different from ours in Europe. And with the biggest neighbour on our continent, with Russia, we are facing persisting tensions directly in Europe.

Within the European Union tensions have grown in the past years and this has almost created the impression that divisions have emerged which need to be overcome. With Brexit we are now experiencing for the first time, after years of countries queueing to become members of the European Union, that a country is seeking to leave the European Union of its own accord. Please do not misunderstand me, I had the opportunity to be foreign minister of the Republic of Austria for 4 years and with each visit to a non-European country it became increasingly clear to me how grateful we can be to be living in Europe. I have become more and more aware that many things that we take for granted in Europe are not a foregone conclusion. I have become more and more aware that the rule of law, democracy and the fundamental freedoms that seem normal to us are anything but in other parts of the world. We are therefore very fortunate to be living in Europe, fortunate to be European, even at a time fraught with challenges.

But during recent years when I was travelling a lot as foreign minister, I not only realised that these freedoms, the rule of law and democracy are anything but a matter of course elsewhere, but I also realised to ever greater extent that it is our task to fight to preserve them in Europe. The rule of law, democracy, fundamental freedoms, these are not only the basis but also the very heart of our coexistence. We as a presidency will do our bit to ensure that these fundamental freedoms remain a matter of course in Europe.

Furthermore, I also believe that it is important to fight so that Europe remains competitive. As European prosperity, justice, the European way of life, the European Union's model of life all depend on our fundamental rights. But they also depend to a great degree on our competitiveness and our economic performance. And so, in a period of digitalisation and automation, we must also work to remain competitive as a European Union, so that we are not overtaken by other regions of the world due to us being more bureaucratic or slower, rather we must do everything to remain a world leader in these times of change. For this very reason, the Austrian Presidency wishes to focus on the major issues.

In line with the principle of subsidiarity, we are of the firm conviction that we must focus on the major issues, and we wish to do that jointly with you – the European Parliament – and, it goes without saying, with the Commission too. I would therefore also like to warmly thank you, Mr President, for the successful visit of the Presidents of the European Parliament to Vienna on 19 June. It provided an initial positive exchange in preparation of our presidency, but I greatly hope that the positive cooperation that we were able to instigate during the visit can be continued during the next 6 months in an equally friendly and professional manner. Of course, we do not agree on everything, but during the meeting, I saw that the political groups in the European Parliament do not always agree with each other either. But perhaps that is exactly what defines us Europeans to some extent: That we can afford to have different views, but at the same time know that we have to focus on the areas where we do agree, that we concentrate on objectives where we can reach compromises. That is the exactly the goal of our presidency.

We want to be bridge builders and focus on topics where we can work together so that our European Union can move forward. The motto of our presidency is "A Europe that protects". We want to concentrate on highly topical challenges, we want to do everything we can to secure prosperity in Europe, and we want to do that not only within, but also beyond our European borders. We plan on focusing on three specific priorities.

Firstly: security and the fight against illegal migration. For the protection of the European population must be our uppermost priority and we need a paradigm shift in migration policy. Stronger focus must be placed on the protection of our external borders, as a basis for a Europe without internal borders. In this respect, I am extremely glad that the European Council last week managed to bring about – in my opinion – a turnaround and place an important focus on the protection of external borders, on the cooperation with third countries. This is – in addition to the debate on the Dublin reform as well as the distribution in Europe – of extremely great importance. In particular the German discussion on national measures regarding Austria once again makes it clear that we need to focus on the protection of external borders and that a Europe without internal borders can only survive in the long term if there is also a functioning system of external borders.

Secondly, we also want to focus on securing our prosperity. Digitalisation as well as automation are changing the world we live in. Only if we can succeed in also being pioneers in this area and avail of the opportunities that arise will the European Union continue to be a world leader. We must do everything to ensure that in the future the large internet companies are not only based in the United States or China but also in Europe. The European Union has the optimum basis requirements: the rule of law, good infrastructure, well educated people in our European Union and, most importantly, a single market with 500 million people. But we must now also create the right framework conditions to secure "High-tech – Made in Europe" in the future as well, and above all to create a level playing field. In this respect, I support the European Union's idea of an equalisation tax on turnover for internet giants, as such a measure would contribute to greater equality of opportunities and fairer competition for European companies as well.

Thirdly, ladies and gentlemen, alongside security and the fight against illegal migration, alongside securing our prosperity, we as a European Union naturally also have to be active in our neighbourhood. A "Europe that protects" doesn't end at European external borders. Only if we succeed in securing peace, security and stability in our neighbouring countries as well will we be able to guarantee long-term peace, security and stability in Europe. We want to make a contribution to improving the Eastern neighbourhood relationship. There have been reactions to the Russian aggressions and also sanctions due to violations of international law. But at the same time it is necessary to reinforce our communication channels, as peace on our continent is only possible together with Russia and not against Russia. Furthermore, we want to intensify cooperation with Africa, and I'm very grateful to the President of the European Parliament for also being a driving force behind such efforts. Only if we succeed in improving the living conditions in Africa can we reduce the suffering of the African people. Only if we implement fair trade with Africa and, at the same time, support European investment there can we also ensure sustainable development and prospects for the young. Thirdly, the neighbourhood which is very close to our hearts – as the Republic of Austria – is of course South Eastern Europe and in particular the Western Balkans. The European Union project can – in our eyes – only be considered complete once the Western Balkan states have also become part of our united Europe. These states, ladies and gentlemen, deserve not only a European perspective, but rather they have earned themselves membership of the European Union. We have to do our best to support these states on their way into the European Union.

In this context I'm delighted that we have succeeded in finding a solution to the naming dispute. We are pleased that Macedonia and Albania can now open accession negotiations, even if we would have wished for it to happen even sooner. What we need now is an honest perspective for these states. Now, continuous progress on their path to the European Union has to be achieved. Only by doing that can we stop the growing influence of other states in the region, only then will we be able to make sure that the European Union project will one day be completed, that these states will also be part of our European Union and that they will also be able to benefit from our fundamental values and the development of the European Union.

During our presidency we have the right to set our own national priorities. But in addition to these you'll naturally find other topics on the agenda that we have not chosen. When saying that I am alluding to Brexit. We're all unhappy that Great Britain will leave the European Union. It is therefore even more important that this happens in an orderly way. There can be no cherry picking for Great Britain, but at the same time it is equally important to establish a sound political but also economical relationship with Great Britain. In this respect, I am very grateful to the chief negotiator of the European Union for his work. We will do our best to support him in his tasks and guarantee unity of the 27 in this question.

We also plan to support the Commission the best we can in the negotiations of the next European budget, of the Multiannual Financial Framework, even though we know that these will turn out to be very difficult. I believe that we will need a good combination of quality and naturally timing, as both are decisive for the stability of the European Union.

Ladies and gentlemen! We are aware that Austria is taking over the presidency of the Council of the European Union in challenging times. We know that it will also be the last complete presidency prior to elections to the European Parliament, and we realise that it will entail much work and effort for us. Nevertheless we are looking forward to taking on these tasks. We kindly ask you for the best possible cooperation and support for the Austrian Presidency of the Council of the European Union. We are happy if we can act as bridge builder in some difficult questions, in the interest of all Europeans and the interest of our European Union. Thank you very much!
Official photos of this event will be published on the official Flickr channel.