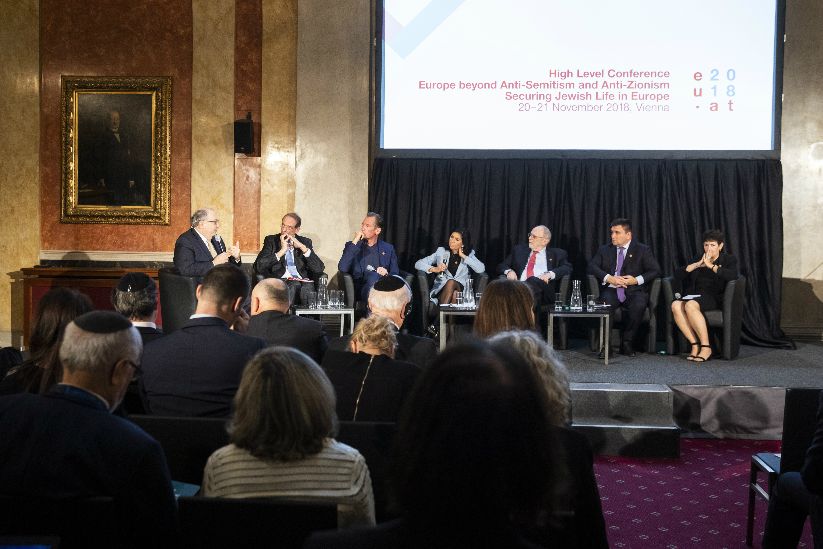 News
Federal Chancellor Sebastian Kurz: We need to fulfil our historical responsibility
Published 22 Nov 12:00
High Level Conference 'Europe beyond anti‑Semitism and anti‑Zionism – securing Jewish life in Europe'
"I find it almost inconceivable that almost 100 years after the Shoah, such a thing as anti‑Semitism even still exists and that we continuously see newly imported anti‑Semitism in our society. It is all the more essential never to forget the past and to also raise awareness among subsequent generations that in Austria there were not only victims but also many perpetrators",
said Federal Chancellor Sebastian Kurz at the High Level Conference 'Europe beyond anti‑Semitism and anti‑Zionism – securing Jewish life in Europe' on 21 November in Vienna.
Discussions with contemporary witnesses – awareness-raising
In his speech, the Federal Chancellor emphasised that for all initiatives aimed at preventing the past being forgotten, contact with contemporary witnesses and discussions with survivors, "even if they are often painful", are an essential foundation of awareness-raising. It is now also important to develop awareness of the current prevalence of anti‑Semitism and the fact that "anti‑Semitism and anti‑Zionism increasingly go hand in hand". The Republic of Austria has to take responsibility for looking not only at the past, but also at the present and to the future.
"If we look ahead there are many ways to fulfil our historical responsibility",
said Sebastian Kurz and added that this involved not only the building of memorials such as the wall of names in Vienna, but also events similar to the one today, from which further steps can be derived.
During the panel discussion the Federal Chancellor pointed to several areas of action in Austria:
"Based on our history we have very strict legislation and tough sanctions with regard to anti‑Semitism."
Moreover, the security of the Jewish community is an important concern, just as is awareness‑raising and addressing the topic of anti‑Semitism in schools. The President of the European Jewish Congress, Moshe Kantor, thanked the Federal Chancellor for his efforts in the fight against anti‑Semitism. During its presidency of the Council of the EU, Austria had played a crucial role, making anti‑Semitism a priority and raising it for discussion at the highest level. According to Moshe Kantor, combating anti‑Semitism and ending it are only possible, however, if there is close cooperation on all issues.
Security for Jews
Sebastian Kurz was pleased about the video message sent by the Israeli prime minister, who had to cancel his participation at the conference due to the internal political situation in Israel.
"In a telephone call Prime Minister Netanyahu emphasised how important it is for him that we in Europe develop greater awareness, not only in the fight against anti‑Semitism, but also for the need for security in Israel. I think that today's conference under the Austrian Presidency of the Council of the EU can be a first step in this direction",
said the Federal Chancellor. He would now like this to be followed by sustainable steps in the fight against anti‑Semitism and anti‑Zionism, "so that Jews in Austria, Europe and beyond can live in security."
With courage against anti‑Semitism in Europe
EU Commissioner for Justice, Consumers and Gender Equality, Vêra Jourová, underlined that the European Union was aware of anti‑Semitism being a serious problem that can only be combatted jointly. Societies should not stand and watch as anti‑Semitism is once again on the rise.
"I would have never imagined how much courage it takes to raise your voice against anti‑Semitism. I thank you, Federal Chancellor, for showing this courage",
said Vêra Jourová.
Coalition of the willing – mobilising society
In his concluding statement Rabbi Arthur Schneier called for vigilance in the light of an "epidemic" that is spreading like a virus.
"I suggest that the EU builds a coalition of the willing – representatives from the areas of business and finance, education and science – in order to reach and mobilise society."
He wished for a meeting of all EU education ministers, with the sole topic on the agenda of this meeting being educational measures combating anti‑Semitism and anti‑Zionism with the aim of teaching democratic values.
"We can achieve a future of peace, freedom and democracy for our children and grandchildren", said Rabbi Arthur Schneier, and underlined: "I never thought I would see the day when a Federal Chancellor stands at the fore and, with the support of the European Jewish Congress, invites us all."
Federal Chancellor Sebastian Kurz concluded by thanking all partners, supporters and initiators who made this conference possible.
More information about the event can be found on the event page.