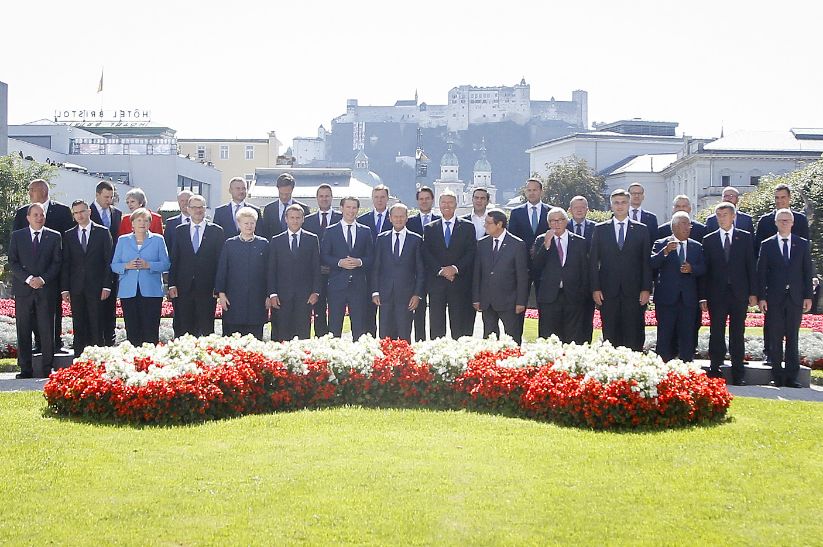 News
Salzburg Summit – EU intends to push forward cooperation with Egypt
Published 20 Sep 20:30
Tusk: Summit with Arab League in February – praise for Federal Chancellor Kurz from the President of the European Council: "Best performance" – Juncker "now very optimistic" about external border management
Salzburg – After the Salzburg summit, the EU intends to deepen its migration cooperation with Egypt and other African countries. President of the European Council Donald Tusk said there was agreement to hold a summit with the Arab League in Egypt in February. On Thursday, Federal Chancellor Sebastian Kurz (ÖVP) described Egypt as exemplary in the fight against illegal migration and smuggling.
He added that it was also the EU's wish to have a dialogue with Egypt on economic development. Tusk also said that – in the end – the intention was to have "a broader partnership". He planned to advance those ideas as early as this Sunday at a meeting with Egypt's President Abdel Fattah al-Sisi in New York.
According to Sebastian Kurz, Egypt was not in favour of refugee centres. The country was, however, "very efficient in its fight against illegal migration". In the past two years, no more refugee ships from Egypt had reached Europe. The Federal Chancellor also regarded the "disembarkation platforms" for migrants, decided by the EU last June and rejected by Egypt, as not necessary. The decisive point in this issue was to make sure that as few people as possible set out illegally from Northern Africa to Europe.
Sebastian Kurz continued by saying that nowadays hardly any rescue operations took place in the EU coastal area, with the operations happening close to the African coast. The legal obligation to bring people to Europe only arose once those people entered European coastal waters. He supported Joseph Muscat, the Prime Minister of Malta, in his criticism of the current practice of rescuing refugees. "Nobody can say that this policy has saved lives", Chancellor Kurz declared. "A new system is needed", which could be initiated by strong partners in Africa. Three years ago one would have been denounced as right-wing or a right-wing radical for uttering such ideas, said Sebastian Kurz.
Donald Tusk said after the end of the informal EU summit that the migration debate had shown that it was not possible to reach an agreement on everything. However, the common main goal was to fight illegal migration, strengthen the external borders and intensify the cooperation with third countries. The President of the European Council thanked Federal Chancellor Kurz and the city of Salzburg for having hosted the summit. The hospitality and logistics were "one of the best performances I have ever seen".
EU Commission President Jean-Claude Juncker added: "It was a useful and positive informal summit", which had been carefully prepared by Chancellor Kurz. He was happy to see that some of the Commission proposals had met with broad approval. His proposal to ban terrorist content as soon as possible from the internet was approved unanimously. Regarding "fake news" on the internet, Juncker moreover called for fair and free European elections. Concerning external border management "I was less optimistic, but now I am very optimistic", he said. A result could still be expected under Austria's Presidency of the Council of the European Union.
(APA-ths/tsc/bru/vos)
More information about the event can be found on the event page.